Click here Starkville Bridges Summer Flyer to view more information!
If you would like to sign-up for the One-Day Community Training click here www.SignUpGenius.com/go/10C044BA5A928A6FB6-oneday
The Starkville Bridges Building Bridges For Kids Program, better known as BB4K, began this year on June 2 at the Starkville Boys and Girls Club with forty anxious and anticipating third through fifth grade students. Rod Holmes, the coordinator, and the MSU mentors did not know what to expect or what they were in for. Through the course of seven weeks Rod and the mentors taught, mentored, and played with the rambunctious bunch while at the same time trying not to get attached; nevertheless, the mentors and the students themselves had their favorites. Although BB4K has ended for this year, the lessons and friends made will last forever. The MSU mentors even said they will be returning to the Boys and Girls to volunteer proving that this year's program was another success!!
For more images of BB4K visit our Photo Gallery.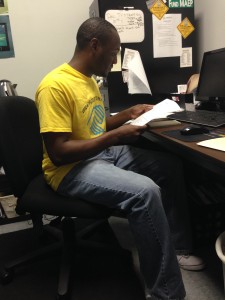 Mr. Lucas Davenport, Director of the Starkville Boys and Girls Club, looks over the itinerary for the upcoming BB4K program that will be in conjunction with and held at the Boys and Girls Club this year.
The BB4K program first day is June 2, and the mentors from Mississippi State University are ready to meet the kids and get the fun and learning started. The program will be from June 2-July 25 every Monday and Wednesday at 1:00-3:30 p.m.